2013 Long Eights (Cromwell to Clyde)
27 October
Clutha River
Race morning at Cromwell
The sight of 67 boats from singles through to eights stretched out along a stunning piece of Central Otago water made this a special event. A tail wind and 4 degree temperatures created some challenging conditions particularly for the small boats. The long eights race felt more like a winter row at times. After chilly but still conditions for launching at Cromwell, the breeze picked up in the gorge with some some small swells and white caps in the final stages.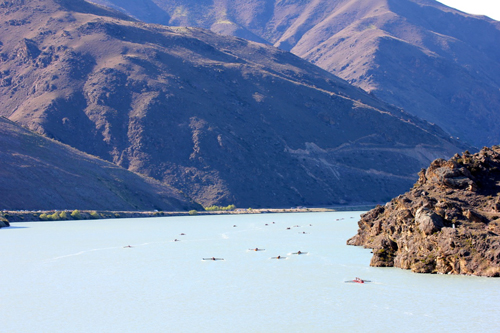 On the way to Clyde
The mixed masters crew [Dale Maher, Dorle Pauli, Mike Fowler, Danny Blair] completed the race in 1.06.30. The men's eight [Jason Cowles, Malcolm Burgess, Neville Youngman, Rod McLellan, Brendan O'Dea, Brent Murfin, Bob Lysaght, Graham Russell, Stephane Chretien] rowed the 17 km course in 1.14.18.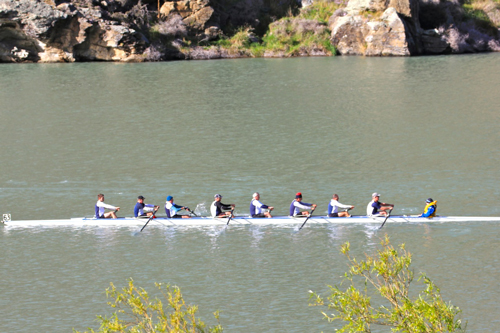 The URC mens eight
The quad was the fastest mixed masters crew and the second fastest masters quad, with the Dunstan Arm men's crew being two minutes faster. The eight were the third masters eight home and retained bragging rights over the Wakatuis, coming home a minute faster.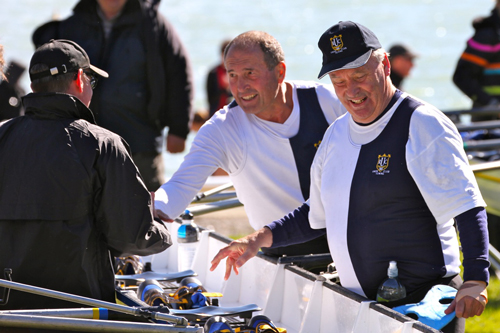 Neville Youngman and Brendan O'Dea
The Otago University eight was fastest crew on the day covering the 17km in a smart 57.35, with the Union quad 15th fastest and the eight the 30th fastest crew home.