The 1970s URC Reunion
The 'maiden eights' from 1972 to 1974 and coach Jim Little met for a reunion weekend in November 2012, nearly forty years to the month after the crew first took the water.
The reunion weekend was to remember and honour Brent Ashley, a good man, a good friend and URC clubmate, who died on 26 September 2012 aged 56. We also welcomed Brent's family including his wife Robyn, sons James and Robert, and mother Robin. Brent continued to have a long term link with rowing after his Union career ended. He held several positions in the Wellington Rowing Club in Wellington and took a keen interest in both sons' rowing, a high point being James Ashley's selection in the NZ under 21 squad.
The reunion stirred many memories: of wooden boats and blades, of Blenheim training camps, life under canvas in the AA Motor Camp and the Grove Tavern across the road, and of regattas at New Year. The social events gave rise to plenty of story embellishment and exaggeration. Richard Cretney narrowly won the URC 'Bullshit Bib' award presented by Jim Little from several close contenders. The compulsory row also provided an opportunity to prove that only a little of the talent and strength from four decades earlier had disappeared.
With James and Robert Ashley rowing in Brent's seat in the two eights boated, the 1972 /73 crew took to the water first as part of Saturday's events. This crew's first win [below] was the maiden eights in the Marlborough Championships at Picton on January 1st 1973: cox Richard McCall, James Sheehan in stroke seat, Brent [7], Mark Borgfeldt [6], Mike Fowler [5], Ross Paterson [4], Bruce Cardwell [3], Murray Knight [2] and Brian Lester [bow].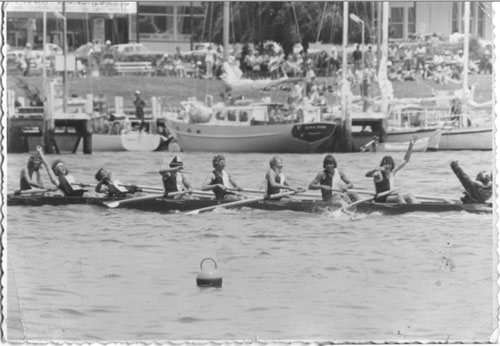 The same crew [with James Ashley in 7 seat and Richard McCall rowing in 2], 40 years later: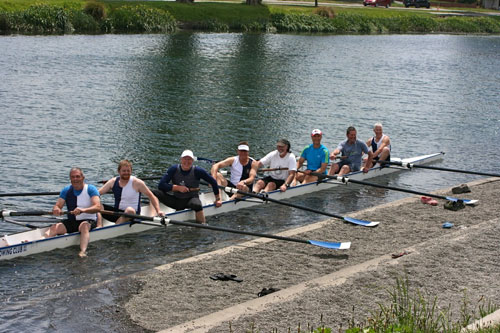 The 73/74 eight's win in the Estuary to Kerrs Reach Race in January 1974 was a highpoint of the season with this shot appearing in The Press: cox Peter Gamble, Richard Cretney [stroke], Steve Menzies [7], Mark Borgfeldt [6], Mike Fowler [5], Ross Paterson [4], Brent Ashley [3], James Sheehan [2] and Murray Knight [bow].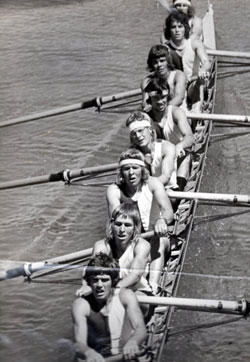 The 73/74 crew in November 2012 [with Robert Ashley in 3 seat]: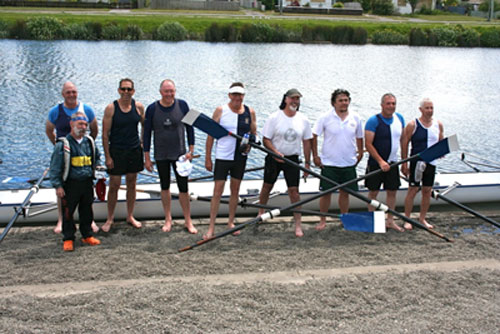 The crew is looking forward to Union's 150th celebrations in 2014, with the opportunity to jump in a boat again and perhaps even go for a longer row – what about the Brighton bridge, or even a re-row of the great Estuary Eights win?