2021 National Club Champs
18 – 20 February, Lake Ruataniwha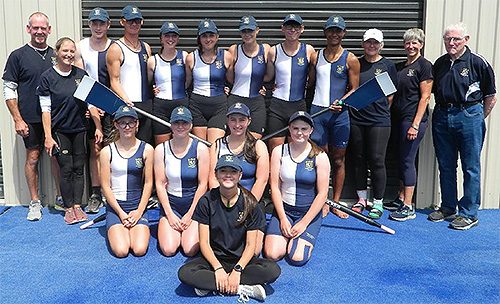 Nationals squad and coaches
Union Rowing Club attending Nationals 2021 was a momentous occasion on so many levels. It is the first time the club has competed at Nationals since 2006. Our presence was acknowledged by Rowing NZ/South Island Rowing and we were awarded three engraved ornamental oars that were given out and the wrap up BBQ.
Racing experience was the main reason for attending Nationals this year as this season racing was cut short at Otago and Canterbury Champs due to poor weather conditions. We left Christchurch on Saturday, rigged and racked boats, moved in to our accommodation and were out training on the course at 4 pm. Sunday provided two training sessions and the rowers were ecstatic taking to the water with the likes of Hamish Bond, Emma Twigg and Mahe Drysdale.
Wanting to experience heats, repechage, semi finals and finals [ie: lots of racing over five days], it was disappointing to receive the announcement that Covid-19 strikes again. Here we are in level 2 with a revised and reduced three day regatta at best, and no opportunity to train on the lake.
Our rowers were stoic, to say the least. They hit the books and did their homework, went for runs and bike rides to keep the legs ticking over and we had lots of fun dinner get togethers with the girls house cooking for the boys' house and vice versa and three entire group meals together. There was lots of time star gazing, no not staring at the famous night sky, gazing and getting up close and personal with the Olympic NZ stars of rowing!
You would have seen on the news the living room reactions of all rowers upon receiving the news that "the rest of NZ would move to Level 1." Racing was on! Ours was no different, enormous gratitude went out to South Island Rowing's 'can do' attitude. They had divided the park into 100 person areas, had moved 10 clubs further down the course and prepared the area by cutting down the bush around the water's edge for launching, trucked in port- a -loos etc etc, only to move everything back again prior to racing Thursday morning.
Our little squad of 13 performed extremely well and exceeded our expectations. In Jim Little's words, "they have set the bar high for those who follow in their footsteps." Stuart and I could not agree more. Every rower/coxswain made it to and A or B final and finished top 10 in the country. The club congratulates Barend Erasmus, Samantha Lewell, Isabella McConaghy, Izzy Watson, Caitlin Dent, Beth Farrell, Lauren Isitt, Eva Bader, Nic Pilditch, Alex Fletcher, Kururangi Wetini and Ellee Willis (Coxswain).
Our rowers earned their right to compete at Nationals by performing well through the season. Nic and Barend finished first at Canterbury Champs and won Silver at South Island Champs. The national title and gold medal for the novice men's double was awarded to Nic Pilditch, Barend Erasmus, co- coached by Stuart Wade and Jim Little.
The performance on the water speaks for itself. Mel Fletcher summed up our club's performance off the water as every rower, coach, family member raced their bikes up the course encouraging each team member during their race. "This is what I love about this club, you just do not get this genuine encouragement and team spirit in school rowing."
Congratulations to our multi club members for their results rowing for Dunstan Arm:
Kirsty Mahoney Womens Club 2X; Silver, Andreas Giannakogiorgos and Dominic Mahoney Intermediate Coxed 8; Bronze.
Deb Hymers-Ross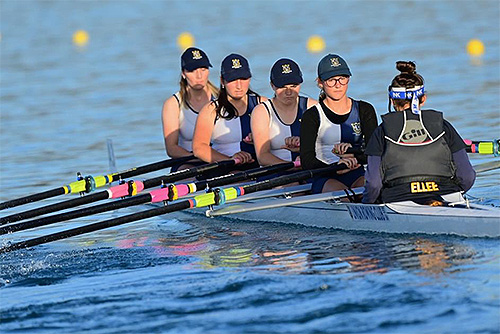 Womens novice quad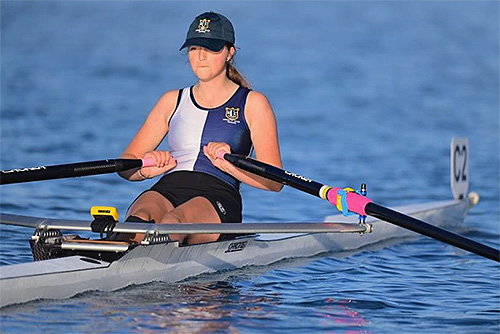 Eva Bader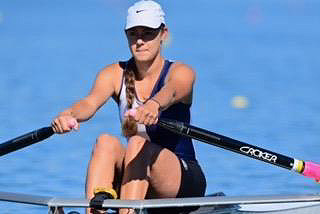 Lauren Isitt
Nic Pilditch, Barend Erasmus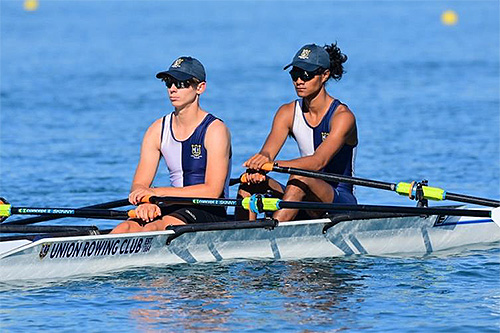 Alex Fletcher, Kururangi Wetini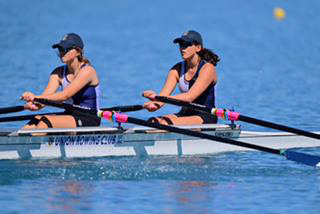 Eva Bader, Beth Farrell