2014 Long Eights (Cromwell to Clyde)
26 October
Dunstan Arm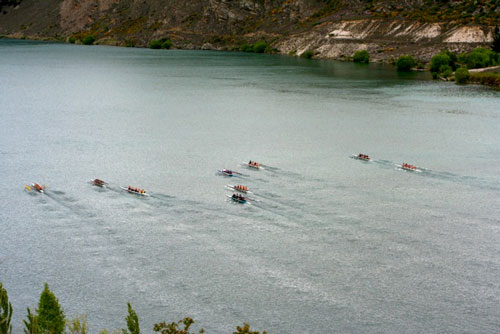 The quads start at Cromwell
Be prepared for anything is a good way to approach a rowing event in Central. After a typical spring week in the region with all four seasons represented and a very mixed Labour Weekend forecast, Union rowers arrived at 7 on Sunday morning hoping for a window in the weather. After a half hour delay as the organisers waited for improvements at the Dunstan Arm end of the course that resulted in the cancellation of the single and doubles, the race was underway with what proved to be better overall conditions than 2013's tail wind and whitecaps. Certainly the final two to three kilometres proved to be pretty lumpy, but no crabs were caught which is testimony to good technique and once again to Jim Little's excellent training programme. The crews had certainly done the yards on the ergs, a vital step in order to row hard for an hour over the 17k course down the Clutha Gorge.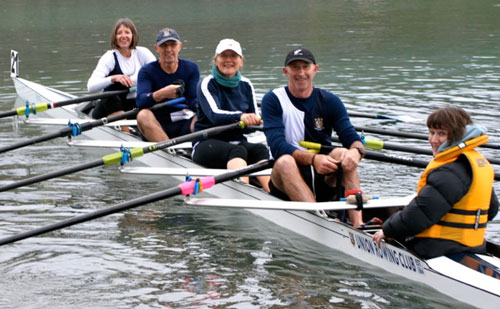 Mixed quad: 'The Balla Rats'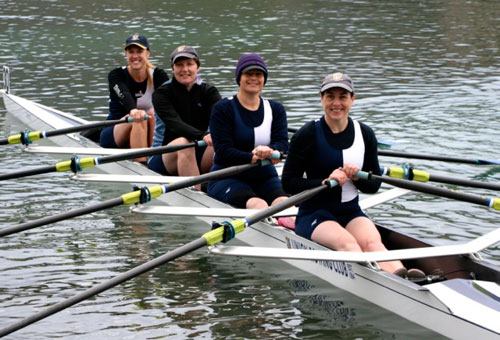 Womens quad
Union was strongly represented in this annual Labour Weekend Cromwell to Clyde event with four crews competing who rowed first or second in their classes in the 50 strong field. The mixed masters coxed quad [Rosalie Maher, Dale Maher, Dorl Pauli, Danny Blair, Deb Hymers-Ross], better known as the 'Balla Rats' after their medal winning efforts at the World Masters earlier in October, rowed to 15th place overall in a smart time of 1 hour 10.59 minutes. The mens eight [Sarah Blair, Stephane Chretien, Mike Fowler, Brent Mirfin, Richard Gordon, Rod McLellan, Richard Lascelles, Malcolm Burgess, Neville Youngman] were 18th in 1 hour 12.13 minutes; the womens coxless quad [Kirsty Mahoney, Astrid Harris, Karen Rickerby, Anita Webb] came home 21st in 1.13.00; and the womens oct [Clare Fowler, Bridget McArthur, Jacgui Van Damm, Jenny Youngman, Wendy Lawson, Liz Blair, Denise Smith, Tanja McDonald, Mandy Buerki] came home 38th in 1 hour 22.35 minutes.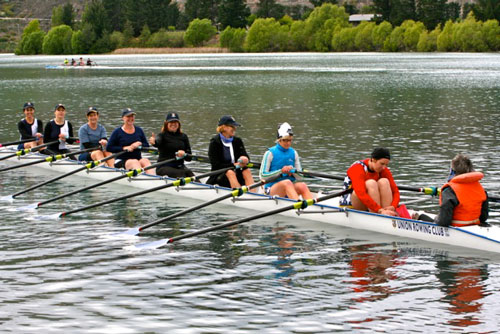 Womens oct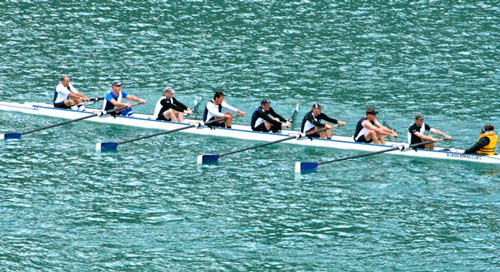 Mens eight
As always, thanks to Jim for is sterling work in preparing the crews; to Rod for his hospitality and trailer driving; Central based Union rowers Bridget McArthur and Jacgui Van Damm who did a great job at stroke and seven in the womens oct; and to Sarah Blair who stepped in brilliantly at the eleventh hour to cox the men's eight.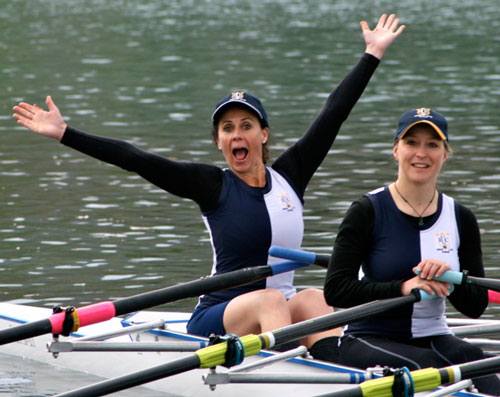 Mandy and Tanya - before the race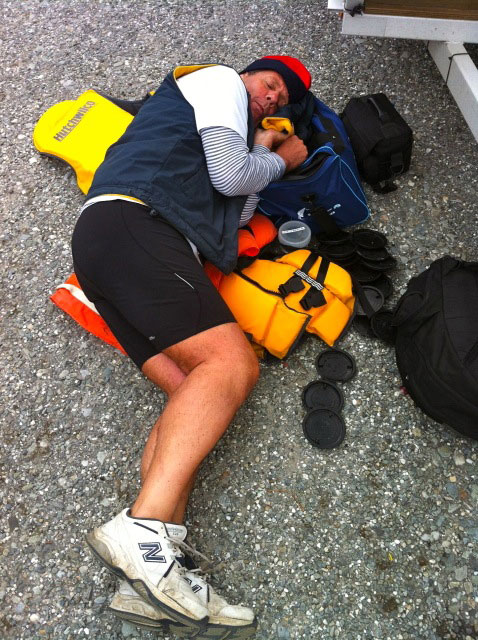 Rod - afterwards at Clyde